Robotics "Team Infinity" Advances to the FIRST® LEGO® League World Championship in April
Students from San Antonio Academy's Robotics Program, "Team Infinity," won 'First Place Champions' at the Alamo West Division Regional FIRST® LEGO® League Championship Tournament held on March 3. The team will advance to the World Championship on April 18 – 21 in Houston, Texas.
San Antonio Academy was among 400 teams to compete in the Alamo Region this year. Team Infinity's winning project involved the creation of a small grease trap for residential use. The idea came to fruition after attending a sponsored event by SAWS, SARA, and the Edward's Aquifer Authority last fall, where SAA students were able to witness the life-cycle of our city's water: how it is harvested, treated, transported back to the treatment facility and then re-treated for release of the effluent into streams. "After observing the process, our students spoke to SAWS technicians who spend every day unclogging and repairing our San Antonio drains. With some creative thought and innovation, they came up with a solution to possibly eliminate the problem caused by grease," says Cathy Baumgardner, SAA's Science Department Chair and Robotics Instructor.
The FIRST® LEGO® League's theme this year, "HYDRO DYNAMICS," challenged students ages 9 – 16 to learn all about water – how we find, transport, use, or dispose of it – with the ultimate goal of 'what might become possible when we understand what happens to our water.'1
This is San Antonio Academy's second time to win First Place Champion's for the Alamo Region. SAA's Robotics' program is in its sixth year.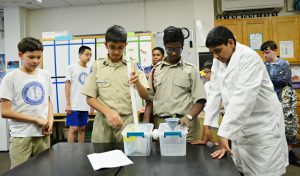 About FIRST ®LEGO® League: Elementary and middle school-aged students research a real-world engineering challenge, develop a solution, and compete with LEGO-based robots of their own design. With adult Coaches to guide them, FIRST® LEGO® League teams (up to 10 members) apply science, engineering, and math concepts, plus a big dose of imagination, to develop solutions to real-world challenges. They also design, build, and program LEGO MINDSTORMS®-based robots to perform autonomous "missions" on a playing field. Along the way, they develop critical thinking, team-building, and presentation skills.
San Antonio Academy of Texas offers prekindergarten through eighth grade boys an exceptional academic program that features small classes, a family-like atmosphere, the development of a positive self-image and a foundation for life-based upon love of God and country, integrity and respect for each other. San Antonio Academy admits students of any race, color and national and ethnic origin.
Contact: Becky Shimek
San Antonio Academy
210-733-7331 x 225
bshimek@sa-academy.org