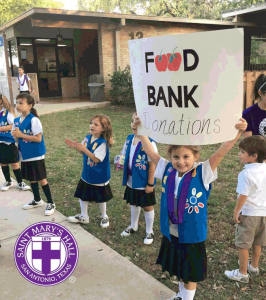 Although San Antonio was not directly in the path of Hurricane Harvey, the Saint Mary's Hall community holds many ties to the Houston, Rockport, and Corpus Christi area. In response to the devastation caused by the hurricane, SMH came together to help provide relief for those affected by the terrible tragedy.
The Saint Mary's Hall community efforts included several sizeable initiatives ranging from food relief, to monetary aid, to emotional support, to volunteerism. Everyone wanted to help!
7,000 pounds of goods, including non-perishable food, water, baby food, diapers, new clothing, and hygiene items, was collected and delivered to the San Antonio Food Bank. SMH Boy Scouts and Girl Scouts collected items during the morning and afternoon carpool.
$4,918 was raised by hosting Out-of-Uniform Days, where students as well as faculty and staff were allowed to wear Texas-themed clothes based on cash donations; and funds donated by the Athletics Department from ticket admission and concession funds. Proceeds benefited the San Antonio Red Cross.
The Spirit Store raised $9,652 by selling a limited edition #TexasStrong t-shirt. Students had the opportunity to wear the shirts as part of a special Out-of-Uniform Day. All proceeds were donated to the San Antonio Food Bank.
Lower School students created thank you cards for the first responders in Port Aransas and Rockport.
Supplies and donations were collected and delivered to aid Port Aransas. Monetary donations were used to purchase food and SMH volunteers cooked to feed more than 300 first responders, peace officers, volunteers, and locals.
The Saint Mary's Hall community, many of whom had family and friends directly affected by Hurricane Harvey, united to help fellow Texans in need. The response to the SMH relief efforts was overwhelming and ever indicative of the school's commitment to living out the value of "be kinder than necessary."