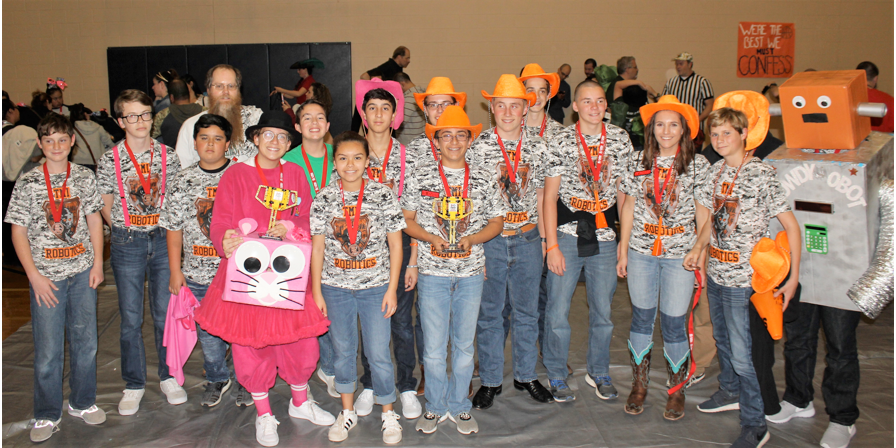 Two robotics teams from TMI – The Episcopal School of Texas claimed awards at the Alamo FIRST LEGO League (FLL) Championship – West, held March 12 at Metzger Middle School.
FLL competition involves a presentation of an engineering project using the LEGO Mindstorms robotics system. Teams create robots to complete as many table-top missions as possible in a two-and-a-half minute game, during which students have to quickly change their robot's attachment and run the correct
program in a short period of time.
This year's FLL competition theme is Animal Allies. For their projects, teams had to find a solution that was beneficial to the relationship between animals and humans. The Pink Panthers designed a biodegradable packaging material made from barley, wheat and mycellum (a fungus) to replace plastic grocery bags to reduce injury to see turtles and other sea life that can mistake grocery bags for jellyfish. The Rowdy Robots created an automated fish-tank window cleaner that causes less stress on fish and other aquatic animals.
At the Alamo regional competition, the Pink Panthers won the Champions Award (second place), and the Rowdy Robots received the Research Award. Both were among 65 teams to qualify for the regional championship out of 395 competing in the West division and among only 16 to win awards at this level. Pink Panthers members include: Juan Pablo Cajiga-Pena, Larissa Esparza, Sebastian Flores, Chloe Harthan, Benjamin Jimenez, Ryan Kyle and William Walsh; and Rowdy Robots members include: Tyler Cunningham, Ashton Dietzmann, John Fera, Tres Geiser, Jackson Gordon, Mikae Mumme, Jacob Perez, Trey Rucker and Newton Tran.
The Pink Panthers also have been invited to participate in an FLL robotics game showcase at the Alamo FIRST regional competition, to be held April 8 in the Henry B. Gonzalez Convention Center.
Founded in 1893 by the Episcopal Diocese of West Texas, TMI – The Episcopal School of Texas is a private, co-educational, college-preparatory school for grades 6-12, with optional military (JROTC) and boarding programs. For information, visit www.tmi-sa.org or call 698-7171.