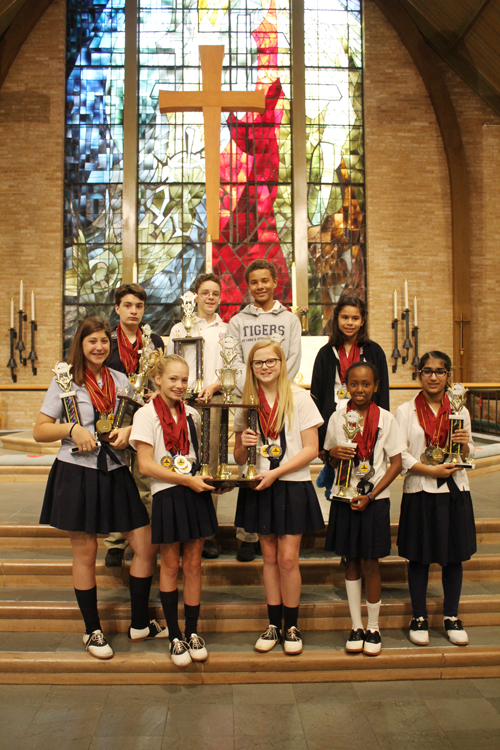 St. Luke's Episcopal School middle schoolers achieved high marks at World Scholar's Cup regional competition and qualified for the Global Round for summer 2017. Located in Alamo Heights, St. Luke's is an independent, coeducational school that has served students from PK3-8th grade for 70 years. The academic competition was established in 2007 and has brought together students from Korea, Singapore, and the United States. This is the school's first year participating in the World Scholar's Cup. The regional competition was held in May in Houston, with all three St. Luke's teams advancing to the Global Round.
St. Luke's swept the competition taking first place in the team debate, team writing, and team challenge competitions. Christopher Duke, St. Luke's Director of Intermediate & Middle Level, served as the team's advisor. "This was our first time participating and we were the only school to place every team in the top placements, finishing in second, third, and fourth overall in the junior division," says Duke. "This regional round was the largest ever hosted in North America over the competitions 10-year history."
Preparing for the competition allowed students to explore subjects other than traditional curriculum. "I thought the subject material was totally different than the normal things you learn at school," said the sixth grade teammate Ella Gunn. "It was intriguing and challenging for us to understand the information. Mostly, I enjoyed breaking down different poems and examining their meanings."
Claire Brown, eighth grader, finished as the overall junior champion and debate champion. Samuel Spezia-Lindner, eighth grader, earned first place finishes as the writing champion and top score in the scholar's challenge across all subjects. Sixth grader Malakia Koreshi was the school's other top finisher with first place scores on the art and social studies challenge exams and a second place finish in debate. Every member of team received individual awards for ranked finishes in the various contests.
"The idea behind the World Scholar's Cup is to create something different than traditional academic competitions and conferences," says Duke. "It is a celebration of the joy of learning and an enrichment opportunity. Our students were motivated not only to demonstrate their existing strengths, but to discover new ones."
To learn more about St. Luke's Episcopal School, click here