The Winston School San Antonio's Interact Club was presented with the Group Volunteer of the year award (Children/ Families category) at the United Way San Antonio's 29th Annual Volunteer of The Year event. This award was presented to the Winston Interact Club for their volunteer efforts that have significantly impacted children and/or families in the San Antonio community, under the guidance of Interact Director, Mr. Mike Canales. According to Dr. Charles Karulak, Headmaster, this is the third time the Interact Club has been presented with this award. They are a wonderful group of students who continually give back to their community. This year, the Winston Interact Club completed 75 community service projects! Their most recent activity included assisting members from the Boerne Sunrise Rotary Club with 13 special needs children from Acuna, Mexico at Sea World.
Winston's Interact Club amasses over 3,000 community hours a year, supporting organizations all over of the city, including The Food Bank SA, the Diaper Bank, Morgan's Wonderland, JDRF, the Alzheimer's Association, and many, many more.
The Winston Interact Club is co-sponsored by the Boerne Sunrise Rotary and North Central Rotary Clubs.
Who: Winston School San Antonio Interact Club
What: United Way San Antonio, Volunteer of The Year Awards 2018
When: June 6, 2018, 6:00pm – 8:00pm
Where: Tobin Center for Performing Arts, San Antonio, TX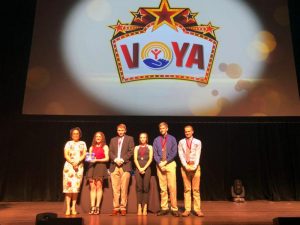 Image caption: Members of the Winston Interact Club receiving the 2018 Group Volunteer of The Year Award (Children/Families category).
The Winston School San Antonio
The mission of The mission of The Winston School San Antonio is to provide a personalized, college preparatory education to students with high potential and identified learning differences. A Winston School graduate is confident, well-rounded, and a life-long self-advocate.