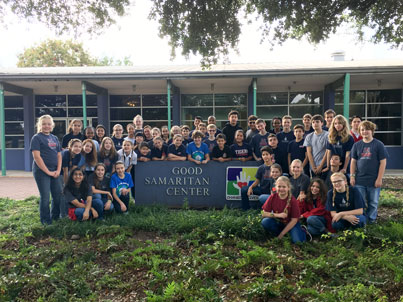 Students on the hilltop are reminded daily in Chapel to be servant- minded as they recite the St. Luke's Mission 'to be dedicated to academic and personal excellence, lifelong learning and service to others.' 
 On Friday, November 17th, the students participated through several learning experiences.
Elementary students assembled "blessing bags" for Church Under the Bridge ministry. 70 Christmas cards created for Jacob Thompson, a boy battling cancer whose wish if for Christmas cards from around the world. Many homemade table decorations created for S.A.F.I.R.E. center's annual Thanksgiving dinner. All first, second and third graders participated in a full day of service. Each room focused on a different charitable organization or good deed. Students read children's books related to the causes to help them better understand their service.
Middle School and Intermediate SLES students literally dug into community service as they pulled weeds and picked up trash around the campus area and Olmos Park. Following this morning of labor-intensive service, the students then turned their focus to SAMMinistries as they made child-sized scarfs.  This day of service was completed by both levels discussing service-learning and they participated in solving a service-related problem.