As part of a well-designed curriculum, students are often given opportunities to compete in varying fields of study.  On January 20th, the First Lego League Competition was held at Central Catholic High School. The St. Luke's Episcopal School robotics team (The Enginerds) participated in the competition and brought home the Judge's Award.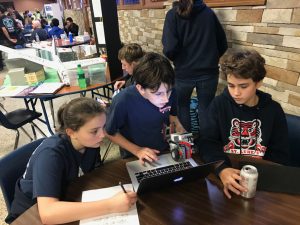 FIRST LEGO League (FLL) is an international competition organized by FIRST for elementary and middle school students (ages 9–14 in the United States and Canada, 9–16 elsewhere). Each year in August, FIRST LEGO League introduces a scientific and real-world challenge for teams to focus and research on.
 FIRST stands for "For Inspiration and Recognition of Science and Technology" and was founded in 1989 by inventor Dean Kamen. 
 Guided by adult Coaches, FIRST LEGO League teams research a real-world problem such as food safety, recycling, energy, etc., and are challenged to develop a solution. They also must design, build, program a robot using LEGO MINDSTORMS® technology, then compete on a table-top playing field. The SLES team was led by Suzanne Parker, the school's science specialist.