Hill Country Montessori School Provides a Solid Foundation for your Child
From Ages 18 Months through 8th Grade

Giving your child a Montessori education may be the edge they need to realize their dreams. The aim of Montessori education is to foster competent, responsible, adaptive citizens who are lifelong learners and problem solvers. Hill Country Montessori School is a learning community built on Respect, Sharing, and Trust. Call 830.229.5377 for an appointment or email us at info@hcmontessori.org.
Hill Country Montessori School, Inc. does not discriminate on the basis of race, color, religion, sex, nationality or ethnic origin in the administration of its policies or procedures.
Hill Country Montessori School, Inc. (HCMS) began its journey as a parent initiative to provide early childhood education to the Boerne Community. It is the successor organization to St. Helena's Montessori School, which was founded in 1981. As we grew along with our students, it became clear more space was required if we were to continue our journey and maintain our standards of excellence in education.
The South School Street campus was purchased in 1990 and allowed us to expand our programs from early childhood through elementary. After adding our Upper Elementary class in the Fall of 2007, our Montessori community served students from 18 months through 8th Grade. After adding our Upper Elementary Class, it became apparent a larger campus was needed to meet the needs of our growing student population. That journey brought us to our current campus, constructed in 2009 and opened with the 2009-2010 Academic Year. It is nestled on 10 acres in the beautiful Texas Hill Country and continues to serve children 18 months through 8th Grade.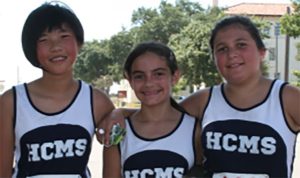 As a school community committed to providing children of the Texas Hill Country with an excellent Montessori education, we put great emphasis on ensuring we remain true to the Montessori philosophy and true to our mission. We accomplish this by continual self-evaluation and school improvement via professional development of our faculty, staff, and board and extending that new-found knowledge to our families through various community meetings and events. As a result of the dedication of all our community members, HCMS is proud to have achieved the following accreditations:
American Montessori Society (AMS), May, 2008
Southern Association of Colleges and Schools (SACS), December, 2005
We are currently the only AMS accredited Montessori school in the San Antonio metropolitan area and one of only eight accredited schools in the state of Texas. We are licensed through the Texas Department of Protective and Regulatory Services, which set forth regulations concerning childcare and health policies.
Hill Country Montessori School is a non-profit, tax-exempt educational corporation chartered on April 26, 1990.
HCMS holds membership in the following organizations:
American Montessori Society (AMS)
National Association of Independent Schools (NAIS)
Independent Schools Association of San Antonio (ISA)