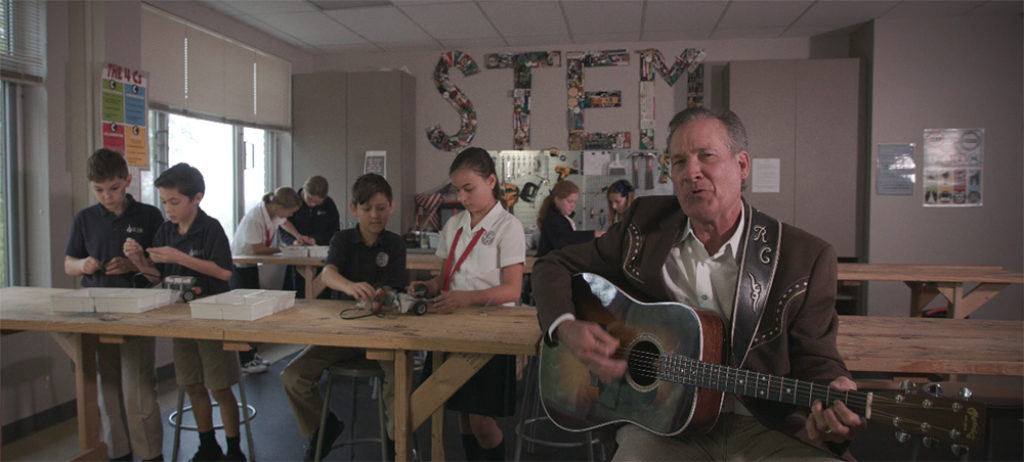 Rick Cavender, president of Cavender Audi and local San Antonio celebrity, has written a song in honor St. Luke's Episcopal School called, "The St. Luke's Way." Cavender was inspired by his deep connection and long history with the Alamo Heights private school. His daughters Courtney Cavender Smith and Claire Cavender McNab both graduated from St. Luke's Episcopal School (SLES). "St. Luke's Episcopal School has been a blessing to our family," explained Cavender. "My daughters were students and my daughter Courtney also was an art teacher there. Now our grandsons are enrolled in their wonderful Mustard Seed program. We love this school."
Cavender's song is an ode to the school's long standing pledge, The St. Luke's Way. SLES students recite The St. Luke's Way each morning during daily chapel. "Reciting The St. Luke's Way each morning is a way for our students to recommit themselves to acting with God's love as their guide," explained Betty Serna, St. Luke's Director of Community Relations. "It reminds us how we always strive to act in our classrooms and hallways, on the athletic fields, and in the wider community." The school prides itself on holding students to high standards. "The St. Luke's Way created a defined code of conduct and discipline when my daughters were students," said Cavender. "It will always stand as a source of these values and blessings." Rick Cavender's eldest daughter Courtney Cavender Smith served as the school's art teacher for several years and now has transitioned into a new role, St. Luke's parent. "St. Luke's instilled in me the values of kindness, confidence, hard work, and service," said Cavender Smith. "I cannot wait to watch these same qualities develop in my sons as they grow at SLES."
After finding his inspiration, Cavender turned to Dale Harris, St. Luke's music teacher, to involve SLES students in recording, "The St. Luke's Way." Harris prepared the student choir for their big moment in the professional recording studio, Keith Harter Studios. "I was very proud that we could introduce these students to this experience," said Cavender. "They performed their roles with fine precision. They were ready and well rehearsed and completed their recording with only three takes!" The experience of acting as professional musicians left a strong impact on the students. "I was scared because I had never been there before, but I just imagined some of my favorite singers going into the studio and making their albums," said SLES middle schooler Addison McCabe.
Along with the professional recording, Cavender even shot a music video for "The St. Luke's Way" at St. Luke's Episcopal School. Students, faculty and parents were in awe of the final product's reflection of the school's welcoming environment and strong moral code. "My mom cried the first time and my dad was just smiling the whole way through," said McCabe. "I am proud to offer my song as a gift to a school that has helped to build the character and faith that my family shares," explained Cavender. "These children are disciplined to follow God's teaching. Teachers greet them all each day with kindness and love, to lead them all to live The St. Luke's Way."
To learn more about St. Luke's Episcopal School click here.