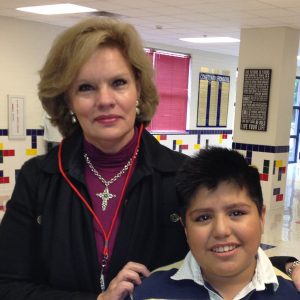 The Buckner Fanning Christian School (BFCS) is proud to announce the appointment of their new Head of School, Sharon Newman. Sharon comes to Buckner Fanning with an excellent background in education. She opened Hardy Oak Elementary School in 2000, and served ten years as their Principal. Through her tenure, Hardy Oak became one of the finest elementary schools in the Northeast Independent School District receiving numerous awards. Hardy Oak was named the number one school in the Greater San Antonio area during Sharon's time as principal.
Sharon has been a longtime admirer of Buckner Fanning. She and her family attended Trinity Baptist Church, while Buckner was Pastor, and loved hearing him share the word of God. While in Stone Oak she became interested in The Buckner Fanning Christian School (BFCS) and watched it develop in to a wonderful private Christian school. She always felt a tug at her heart with regards to the school and finally decided to introduce herself.
The Buckner Fanning School Board of Trustees received her information and immediately asked to meet with her. Sharon graciously agreed to join the board in an advisory position. After serving as their advisor, Sharon was extended the opportunity to lead their school and help them achieve the goals for their exciting long range plans they have for growth.
BFCS, their Board of Trustees, Administration and faculty are thrilled to have her become their Head of School. Sharon will help continue to carry out Buckner's vision and mission for the school. BFCS looks forward to a long and successful relationship for years to come.
To find out more about the Buckner Fanning Christian School or to keep up with Sharon, call 210-402-6905 or visit www.bucknerfanningschool.org.
Sharon Newman
The School Board of Trustees
Administration